Shell Scheme Conferencing and Audio Visual
As with most shell scheme exhibition enquiries we appreciate that there is more that you need to offer your customers. More than just shell schemes. We have the experience and the equipment to deliver shell scheme conferencing podiums, back drops as well as full shell scheme audio visual equipment. We can design and also build your conference back drop to meet your client's expectations.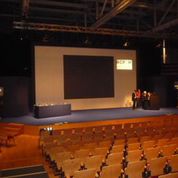 Interactive digital signage allows your visitors to find the information that they want quickly and is great for getting your visitors to engage with your event. We welcome a face to face meeting to discuss your requirements in more detail and to explore the venue's potential.
To discuss your event in more detail please call us on 01793 613088.