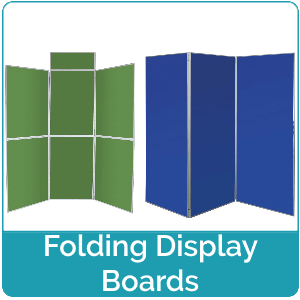 Folding Display Boards and Panel Kits
Often seen at wedding fares, school and charity events; these flexible, lightweight panels are covered in a loop nylon fabric and allow you to attach posters and photographs using hook velcro or fastener. They are available as table top or free-standing display boards. When not in use, the panels can easily be folded up and packed away in the supplied carry bag ready for the next event.
For a more heavy duty panel display, there is the panel and pole system. Panels can be elevated or floor standing by using bases, poles and clips to support the panels in portrait or landscape orientation. You can create almost any configuration you like and easily expand upon the display for larger events if required.
Display 45 Products per page