Delivery Information
All delivery times and pricing displayed on this website are estimate delivery timescales for mainland UK delivery. Each delivery timescale is based on working days which are typically Monday to Friday (except for public holidays). Deliveries outside mainland UK can take longer. If your order is required for a particular date, we recommend you advise us of this date by adding comments to your online order or giving us a call on 01793 613088.
All deliveries must be signed for showing date and time. Please check your goods prior to signing for them – if damaged goods are signed for, we may not be able to replace them without cost.
All delivery times published on our web site or quoted are for guidance only and are subject to goods being in stock. Whilst every effort will be made to keep to the specified time we shall not be liable for any delay in delivery of goods however caused.
All delivery addresses must be complete and include post code and telephone number. PO boxes are not acceptable.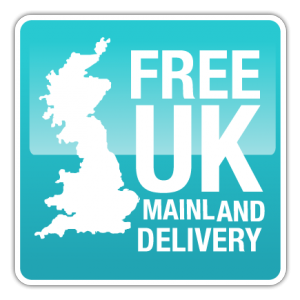 Free UK Mainland Delivery
This product qualifies for free delivery to UK mainland only.

Next Day Delivery
All orders received before 1.30pm on a normal working day subject to order and delivery details being correct and subject to stock will be delivered the following working day between 9am and 5.30pm. We can in some cases track deliveries so please call if you require an estimated time of arrival.

2-5 Days (and products displaying longer lead times)
This normally means that the equipment you have ordered is being made to order. Delivery may vary dependent on the quantity you require, when it was ordered and subject to peak seasons.
Printed Graphics
All orders that require a graphic are subject to site of artwork and require at least 5 working days for output on your approval of a proof. We will endeavour to advise you of a delayed delivery but can not be liable for any delay in delivery of any goods however caused.
Timed Delivery
For rush jobs we do offer a timed delivery service. Please contact our sales team on 01793 613088 who will be happy to provide a quotation. Timed deliveries are not currently available with online orders.
Weekend Delivery
For Saturday AM delivery up to 12 noon please contact our sales team on 01793 613088. Weekend deliveries are not currently available with online orders.
Delivery to third party addresses
We do not recommend delivering direct to Hotel or conference venues prior to your arrival where parcels are signed for on your behalf. With shift changes and no formal goods inwards departments our advice is not to use this option. If you do choose this option then any dispute regarding lost or misplaced goods is between yourselves and the venue.
Glass cabinets
For cabinets in stock, delivery lead times are 3-7 days
For items not in stock we will contact you as soon as possible with available alternatives, however for any out of stock cabinets the typical lead time is 8-10 weeks
All delivery pricing listed is based on a single cabinet delivered to UK mainland. Should you wish the delivery to take place outside these areas please call us for a quote
Delivery options
Collection – From our warehouse in Maidenhead, UK All collections must be arranged with us prior to your visit to our Maidenhead warehouse and is subject to stock. These cabinets are fully assembled and as such a suitable vehicle or courier will be required.
Delivery – Kerbside – Delivery to your front door. It is your responsibility to arrange for the cabinet to be taken indoors and dispose of the packaging. Given the weight of these products we strongly suggest that there are at least two people available to move the cabinet(s).
Delivery – Installation – Two delivery drivers will deliver your cabinet and take it into the ground floor of your premises. It is your responsibility to dispose of the packaging. If you require the cabinet on another floor we can do this for an additional charge. Please call us for further details.
Same day delivery
Some of our products can be extremely heavy, fragile or difficult to transport such as glass displays cases. In these circumstances we use a dedicated same day delivery company. To keep costs down we may require assistance unloading at your premises. We reserve the right to refuse delivery if the location is difficult or a danger to our delivery driver.